Band Camp Information-2020
Everyone has the question "what is going to happen with band camp?"
If we are allowed to hold band camp, it will be at BHS. This is the only plan available. We are still waiting on further information from Governor Dewine, The Ohio Department of Health, The CDC and The Superintendent of Schools.
This is not an ideal situation, which is why we normally go to Hiram, but student safety is our primary concern.
** ALL STUDENTS MUST ATTEND EVERY DAY, ALL DAY**
(unless COVID-19 symptoms are present)
Please do not plan any appointments, etc. during these weeks.
Just because we are home doesn't mean their schedule is flexible.
The cost of band camp has changed due to the school district picking up the cost of a lot of extra supplies we need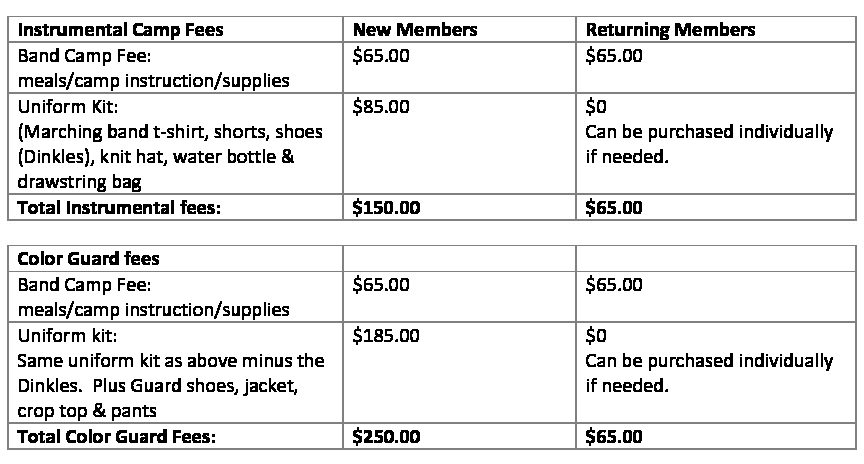 All checks made payable to: BBOP (Bedford Band & Orchestra Parents)
All percussionists need to pay for their sticks and lyres/music folios. These items are the property of the student. If an item is lost, the student will have to pay to replace it. A current price list will be available on the band office window.
Uniform Fitting
Cancelled. Students will be fitted throughout the day during camp for shoes, shirts and shorts. A shoe sizer will be available so students aren't trying on actual shoes.
Camp Schedule
Band Pictures: TBA

"Away Camp": July 26 – July 31 (BHS) Monday-Friday
Click here for drop off/pick up and daily schedule details
Zoom meeting details

CAMP FORMS
Waiver of Liability
Band Camp COVID Rules Form
A signed hard copy of the above 2 forms must be brought the 1st day of camp check in
Online forms to be completed prior to the start of camp
Camp Forms
Medical Forms

Volunteer sign up
Chaperone/Nurse Opportunities